Posted by Monty on February 8th, 2012
There seems to be mass hysteria in the news right now, about the Airbus A380 – the massive double decker airplane that's up in the skies. Apparently now that some news agencies have gotten around to reading some news, they have basically branded the A380 as unsafe because there are cracks, and you are risking your lives by flying on the planes. As usual, mass hysteria and paranoia has hit Twitter too. Lets take a look at the issue.
The A380′s wing is built up of multiple parts. One such set of parts, is the Wing Ribs – literally ribs that run down the length of the wings. There are approx 60 Ribs per wing, and 30-40 connectors per rib – that's approx. 2,400 L shaped brackets in use, per wing. The cracks are appearing in two places, on the feet of the ribs – the connectors that join it onto the wing's lower skin. NO RIBS ON THE A380 HAVE EVER CRACKED! Its the RIB FEET (aka attachment brackets) that have cracks.
There are two types of cracks, helpfully labelled Type 1 and Type 2: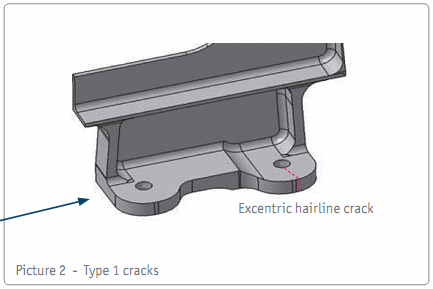 Images are thanks to Doric Asset Finance.
Airbus have admitted that new wing ribs that are being shipped contain Type 1 cracks – so this means this is a manufacturing defect, not a stress related defect. Airbus have already have started adjusting their manufacturing process, as it appears that the CFRP (Carbon Fiber Reinforced Polymer) attachment brackets are being manufactured with defects – the 4 metallic rib connectors that are used, as the primary structure for the wing, are not comprmised, only 26 CFRP polymer connectors. That's 26 out of approx. 2000!
Now, the problem comes with Type 2 cracks – the cause for them, at the moment, is unknown. It's believed to be stress related, but its unreproducible at the moment. What we do know is that EASA (European Aviation Safety Agency) have issued an Airworthiness Directive (AD) saying:
For an aircraft that has between 1,300 FC and 1,799 FC (Flight Cycles), an examination has to occur within 6 weeks, or 84 FC, of the effective date of the AD (Which is 24 Jan)
For an aircraft that has over 1800 FC, an examination has to occur within 4 days, or 14 FC, of the effective date.
IF cracks are found, contact Airbus for help (for which, they will provide replacement connectors, for them to be replaced, as part of warranty).
Airbus, and EASA have stated that cracked rib feet do not constitute a problem to safety, if is corrected. If left uncorrected, it MAY become a safety issue, but that could be said for any repairs at all to the aircraft.